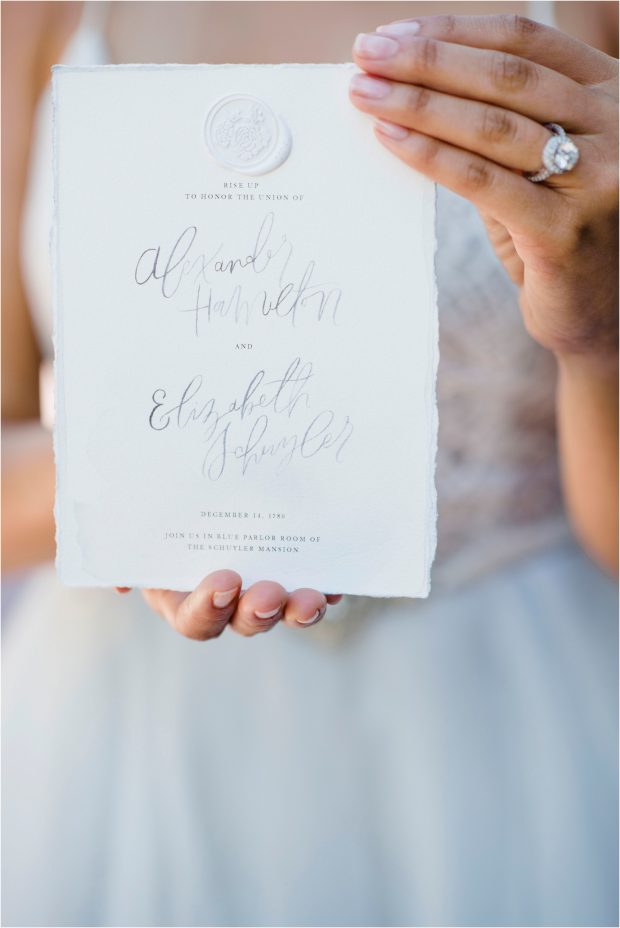 At the end of last year, (by a very dear and insistent friend) I was introduced to the soundtrack of the Hamilton: An American Musical. I started listening to it while I was editing and not before long I had it on loop and was belting out the lyrics along with my computer speakers.
I am pretty sure I must have listened to the entire soundtrack 100 times in the span of 2 weeks.
And of course, as many other Hamilton fans will probably agree with, my thoughts were consumed with the musical!
Not only is it one of the most magical listening experience (Lin Manuel Miranda is a freaking genius!) it was the story that was brought to life within the musical that really got to me.
There are SO many concepts within the story that are so relevant today.
And of course the story Alexander + Eliza's love and marriage struck a chord with me,
hence the idea of a Hamilton Wedding inspiration shoot was born.
With the help of many AMAZING vendors, (in Lin fashion) with a blending from the 18th century to modern day,
Welcome to the wedding of Alexander Hamilton + Eliza Schuyler!
Knowing that the Hamilton-Schuyler wedding took place at the Schuyler Mansion in the blue parlor room, I wanted to find a venue that would hold true to the elegance and historical feel of an estate, and when I came across our venue, Luxmore Grande Estate, I knew that we had to have it there. And I am so grateful that they fell in love with the concept and allowed us to host our vision there!
There is no other venue like Luxmore Grand, even though it was build in the 21st Century, the designer knew that the elegance of history is something that should be sought after, which is why they incorporated stained glass windows and a Brunswick bar ACTUALLY from the 1800s!
As you find out in the story of Hamilton, there would not be an Alexander + Eliza if there were not some other key players that were to bring them together, so we brought the whole wedding party to Luxmore Grand Estate to celebrate with them. Alexander (Yianni Tsafonias) + Eliza (Karla Goodwin) were joined with The Schuyler Sisters, Angelica (Charlene Anderson) …and Peggy (Rose Meyers) along with Alex's Right Hand Man gen. George Washington (Ralph Alphonse) and his friend John Laurens (Chris Keough), cause you know 'he likes him a lot'. Though they could not attend, Marquis de Layfette and Hercules Mulligan were there in spirit 😉
RW Style, 'blew us all away' with their jaw dropping vintage furniture rentals. Their vast selections of old world decor was the absolute perfect fit for our inspiration. Not to mention they have a namesake chair of our very own 'Hamilton'! Their Seattle collection in blue, brought comfort and elegance to our wedding guests.
Leslie of Flowers by Leslie is a floral genius! We said bough pots and pops of color – and she brought on 18th century floral designs like they had lept right from one of Henry Fletcher's 1730 engravings of 'The Twelve Months of Flowers'!
Our master chef, Sherri, of The Pastry Studio created our pièces de résistance in a FIVE tiered luxurious cake. Pulling the blues and silvers from our in to artfully crafted scrolls and rice paper floral embellishments.
Bringing in touches of the Broadway masterpiece's award winning soundtrack we featured decor that included a custom 'Right Hand Man' tie clip, 'Young, Scrappy + Hungry' spoon, as well as our stationary suit, 'Wait for it' and 'History is Happening here' and lest we forget 'The room where it happens' signage, and personalized waterbrushed Vows, – all penned my the amazing Andi Mejia. Take a special look at the VIP seating chart as well, you may recognize quite a few of the featured guests..
Though in my mind, Eliza is wearing Hayley Paige's rarefied Avelon dress (it was not possible with it being on loan to a fashion exhibit at Hayley's alma mater, Cornell University – PS. you should totally check it out if you are over that way!) we found the perfect, romantic dress in Hayley Paige's Bijou (provided by The White Magnolia) with its Humming bird blue tulle ballgown and with its delicate lace top, half corset/open back, this is what our reserved Eliza chose to wear as her best gown (selected I'm sure with the guidance of her sister Angelica of course.)
Eliza also wore couture Annalise shoes by Bella Belle and carried an heirloom wedding day hankie (provided by Bumble Bee Linens) to catch those happy tears.
The Bride and Bridesmaids adorned Edera Earrings and bridal accessories. Edera jewelry is delicately and exquisitely hand crafted just as fine pieces were centuries ago which is why we thought it was the perfect incorporation of bringing the romance of history to modern day. Eliza's girls wore their signature colors from the show (dresses provided by Calvet Couture), Angelica wore Blake by Jenny Yoo in whipped apricot …and Peggy adorned Dinah by Nouvelle in Nude.
Angelica being the intellect, brought Common Sense by Thomas Paine as a wedding gift, …and Peggy gifted the couple by confiding in Alexander her advise for their marriage.
Our Men were dressed in fine Italian silk suits provided by Bespoke & Co. with our groom in a double breasted vested suit to bring in the fine old world attire to modern day men's fashion.
Our tablescape includes velvet – that's right!- velvet runners! Every bride should include the luxurious soft velvet on their sweetheart table! We paired the luxury runners with 18th century style pewter chargers with classic white dishes provided by Ever After Vintage Rentals. And our wedding party raised a glass to Alexander and Eliza's union with vintage blue goblets.
Our couple enjoyed tea time out in the lush grounds (as they did often in that time) of a specially brewed tea for their day (Liberty tea by K-teas).
The matchbox favors, were chosen because it is rumored that Eliza burned all of her letters that she wrote to Alexander in a moment of anger.
Although there is so much I love from this shoot, my favorite part has to be the vows.
Everyone should have their vows- their promises to the one that they love- created into a memorable piece of art such as the ones that Andi created for our Alexander and Eliza. It is the promises that we make to each other that keep our marriages strong and bound together through all the ups and downs. Having those words hung where you can read them every day is such a great reminder of your promises and of your special day too!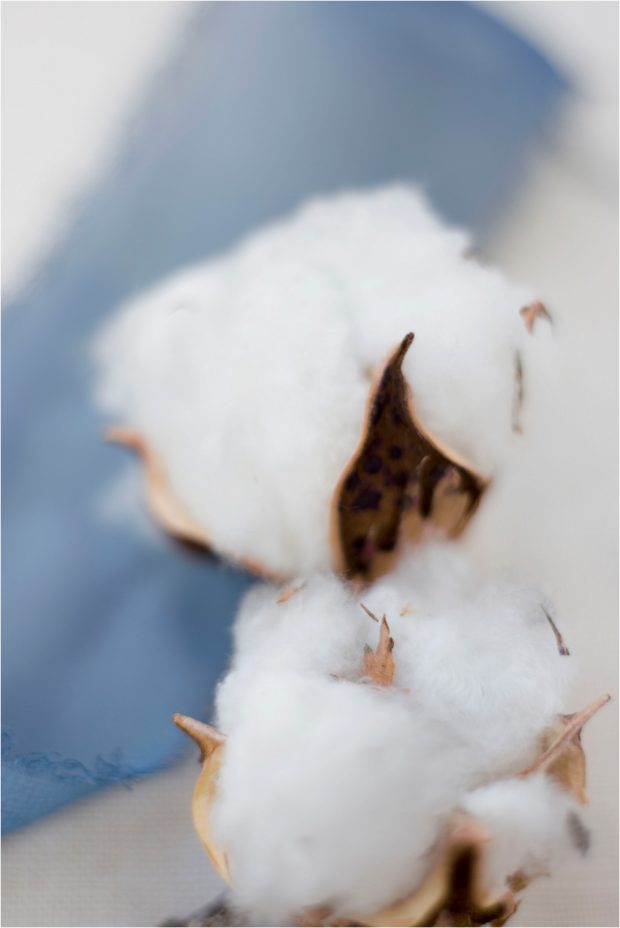 Just to name a few of the breathtaking features of Luxmore Grande: Grand foyer with twin circular staircases, Luxurious crown molding, Brazilian hardwood floors, Gorgeous custom designed library, Polished porcelain, Crystal chandeliers throughout, Lush landscaping, Lots of natural light, and a Large VIP dressing area (with a walk in closet almost the size of a Manhattan apartment!) The best part about all of this, all of the beautiful features still allow for you to design and utilize this venue as far as your dreams can take you! Which we utilized the large open spaces to and the library most for our Alexander and Eliza.
If you are not familiar with the story of Alexander and Eliza's love, Alexander made a lot of mistakes, though Eliza chose to stay and she chose to repair their marriage. Then once he was gone, she continued to tell his story and to keep his legacy alive, because she loved him that much even through all of his imperfections. No one is perfect, no marriage is perfect, though if you keep focused on the promises that you make to one enough, that is enough, that is what keeps your love alive and your marriage strong. Long past the beautiful wedding day.
 Here is to 'not throwing away my shot' !
Photography + Concept: @greenpearlphotography
www.greenpearlphotography.com
Venue: Luxmore Grande Estates @luxmoregrande
www.LuxmoreGrandeEstates.com
Hair + Makeup: Laura Reynolds Artistry @laurareynoldsartist
http://www.laurareynoldsartistry.com/editorial

Calligraphy: Andi Mejia @andiimejiaa
https://www.andimejia.com/

Floral Design: Flowers By Leslie @flowers_by_lesley
https://www.fb.com/pg/flowersbylesley/about/?ref=page_internal

Cake: The Pastry Studio @thepastrystudio
thepastrystudio.com

Linens: Nuage Designs @nuagedesignsinc
http://nuagedesigns.com/
Furniture Rentals: RW Style @rentalsbyrwevents
http://rwstyle.com/
Dish Rental: Ever After Vintage Weddings @everaftervintageweddings
www.everaftervintageweddings.com
Shoes: Bella Belle @bellabelleshoes
www.bellabelle.com
Bridal Accessories: Edera Jewelry @ederajewelry
https://www.ederajewelry.com/

Wedding Dress: The White Magnolia @whitemagnoliabridal
http://www.whitemagnoliabridal.com/

Wedding Dress Designer : Hayley Paige @misshayleypaige
Bridesmaids' Dresses: Calvet Couture @calvetcouturebridal
calvetcouturebridal.com/the-boutique/bridal-gowns/

Whipped Apricot Bridesmaid Dress Design: Blake by Jenny Yoo @jennyyoonyc
Nude Bridesmaid Dress Design: Dinah by Nouvelle
Men's Attire: Bespoke & Co. @bespoke_and_co
bespokeandcofl.com

Coordination : Christine with Coastal Coordinating South Heirloom
Hankerchief: Bumble Bee Linens @bumblebeelinens
bumblebeelinens.com
Replica Alexander + Elizabeth gold Rings: Etsy
Model: Karla Goodwin @iamkarlagoodwin
BMG Model: Yianni Tsafonias @yianns
Model: Rose Meyers @rosemeyers
Model: Ralph Alphonse @llcooldreads
Model: Charlene Anderson @modelcharleneanderson
BMG Model: Chris Keough @chrismkeough
Young, Scrappy & Hungry Spoon: Etsy 
Grace Began to Grow Specialty Tea: K-Teas @kteastime
Custom matchboxes + matches: PortmanteauPaperCo @studioportmanteau
Bullet Whiskey Glass: Amazon
Book -Common Sense by Thomas Paine: Oxford Exchange Bookstore @oxfordexchange
and to the beautiful and wonderful Emily of @theganeys for capturing it all on film too!